ABRA-kebab-RA
September 13, 2012
By
Fruity Reels
The rise in popularity of UK style pub fruit machines has allowed better games to be developed that both offer authentic features and higher payout rates. Abra-Kebab-Ra is the latest addition to be added to Ladbrokes infamous slot range, boasting a very popular reputation for some of the best fruit machine games available. Consisting of all things Indian cuisine related, Abra-Kebab-Ra is a great themed slot that boasts a top prize of 1000x, in addition to a whole host of mystery prizes to keep you happy! Play now at 32 Red.
Abra-Kebab-Ra Fruit Machine Information
Accessing the infamous feature board couldn't be simpler – match three "golden lamps" anywhere in view across the three reels. The great thing about this slot is that there is the opportunity to hold or nudge the reel, making it a lot easier to get on to the money train. Again, the slot doesn't conform to traditional UK pub fruit traits and boasts a really interactive Hi-Lo feature board. Players are met with three trails to climb – nudges, cash prizes or a mystery bonus alongside a whole host of neat cuisine memorabilia. To climb the respective trail players must correctly choose the next number (high or low) to advance further, with a wrong decision ending the feature board. Extra lives, Multi-Adds and No Lose bonuses can all be collected along the way, making the climb up the trail that much more exciting. The game can also be played for free so you can get to know how it works before playing for real.
The gameplay is very fast indeed, making it a perfect slot for experienced players, but aside from that it could be simpler. The neat sound effects add to the entertainment factor for sure and the whole theme ties in perfectly with the design. The reels on Abra-Kebab-Ra are the favourite ingredients of a kebab – perfect for any fruit machine fan as it's the customary meal following a trip to the pub! Players who aren't used to this type of slot should be aware of the great nudge feature in which you can bring the next symbol down on the reel to reveal a winning line. These include a whole host of traits including: "Nudge Now", "Nudge Gamble", "Nudge Repeat" and "Nudge Bank" giving you more ways to win!
If you like fruit machines with bonus features like this, then we recommend you check out our reviews of Cops N Robbers and Reel King fruit machine.
Play Abra-Kebab-Ra at the following online casinos:
32 Red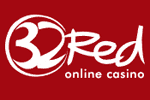 Featuring 12 uk style pub fruit machines including Abra-Kebab-Ra.
Spin Palace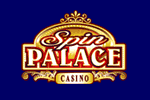 Abra-Kebab-Ra is just one of twelve UK pub style fruit machines available at Spin Palace.