Pub Fruity
September 13, 2012
By
Fruity Reels
Pub Fruity was the first online pub style fruit machine launches on the Microgaming network of online casinos. The game proved so successful that eleven more fruit machines were launched soon after. Until Pub Fruity, fans of pub fuitys couldn't play their favourite games online, as most of the slot games at online casinos are in the U.S. style of multiple win lines with either 3 or 5 reels. But now UK players can get their daily fix thanks to Microgaming's brilliant development of this all-time classic. It can be said that this is the benchmark for all other pub slots to be compared to as it includes all the well favoured features – 3 reels, 5 lines, a feature board and a proper traditional English theme!
Pub Fruity Fruit Machine Review
For players who aren't used to this type of slot should be aware of the great nudge feature, here you can bring the next symbol down on the reel to reveal a winning line. Holding the current symbol is also possible here and allows players to freeze the entire reel and spin the remaining for an extra chance at a winning line! Another UK style trait that has been brought into this slot is a great trial system, which is another way to access the feature board. Pub Fruity actually includes an 18 strong trial, which is massive by UK standards. Players climb the trial by hitting numbers on specific symbols and pick up a whole host of mystery bonuses, massive multipliers, bonus nudges and even the jackpot.
The feature board in Pub Fruity is based around the Great British pub game that is Darts. Choosing the character that scores the highest in three dart throws will reward players with a tidy return. This is a great feature to get onto as the pay outs are usually very high and add this to the fun of witnesses a potentially lucrative Darts match and you have a winner on your hands.
It offers everything you'd expect to see from a fruit machine in a pub including a board feature, nudges, holds and skill stop features. You'll find a whole range of classic slots and fruit machines on this site, with information on the best games, where to play, and where to find the most attractive bonus offers.
Stakes on Pub Fruity range from a minimum of 10p (less than in your local boozer!) to a maximum of £10 (for the high rollers). Pub Fruity offers a maximum jackpot of £1000 which is won when on the darts trial feature.
Play Pub Fruity at the following online casinos:
32 Red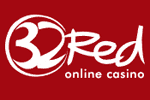 Featuring 12 uk style pub fruit machines including pub fruity.
Ladbrokes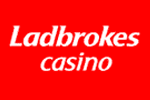 Use your £100 welcome bonus to play pub fruity at Ladbrokes casino.