Battleships
September 13, 2012
By
Fruity Reels
Battleships is the latest classic game to be converted into an online slot machine courtesy of award winning casino software provider Wagerworks. Available at UK casinos including Get Minted, Virgin, and Sky Vegas, Battleships uses cutting edge gaming technology to bring you an exciting slot with bumper jackpot and two bonus rounds.
Battleships slot uses military themed symbols on the reels, but the old school battleships is really refelcted in this slot when you activate one of the two Battleships bonus rounds. Both bonus rounds on the Battleships slot are triggered by matching 3 bonus symbols on the winline. Players are then given the choice between playing either 'Winning Encounter™' Bonus or the 'Sink the Fleet™' Bonus round.
The Winning Encounter bonus round awards playing a 5x win multiplier, and you spin the reels accumulating winnings until the enemy sinks you, or if you reach the maximum 100 spins. The rewards from this bonus feature can be very rewarding. Anyone who enjoys playing fruit machine style slots will love this game, thanks to the skill element and entertaining nature of the bonus round feature.
Sink the Fleet bonus uses the traditional Battleships format, with an 8×8 grid. The player has 8 shots to sink as many enemy ships as possible. Each ship has a bonus amount associated with it and the biggest payout is 16,000 credits.
Play Battleships at the following online casinos:
Get Minted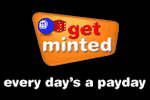 Start playing Battleships now at Get Minted Casino.
Virgin Games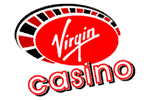 Virgin Online Casino has lots of slots and fruit machines including Battleships.