Robotnik
October 23, 2015
Stefan
Slot Machines
Orbiting Earth has never been this fun
Satellites, comets, asteroids, moons and planets, Yggradil Gaming has created a game with space as its setting and is definitely geared towards fans of science fiction and astronomy. Its publisher was inspired by the 1968 theatre hit 2001: A Space Odyssey by controversial movie director Stanley Kubrick. In general, the 3D online slot machine game Robotnik will please the players with its attractive animations, its colourful graphics and also its advantageous features allowing players to win a generous jackpot. Let's note that Robotnik offers 5 reels and 40 pay lines. On the sound and musical side, player will experience simple but catchy synthetiser tunes which one which very cleverly includes The Blue Danube Waltz by Johann Strauss II which fits very well in the overall theme.
We recommend that you play Robotnik at Mr Green Casino. You can read a full full review of Mr Green here.
Before beginning the game, every player has to choose his wager. They can choose between the following values: 0,01, 0,02, 0,05, 0,10, 0,20, 0,50, 1, 1,5 and 2. The minimal bet therefore amounts to 0,40 whereas the maximal bet amount to 80. With such a large range of bets, Robotnik is a game adapted to a vast category of players.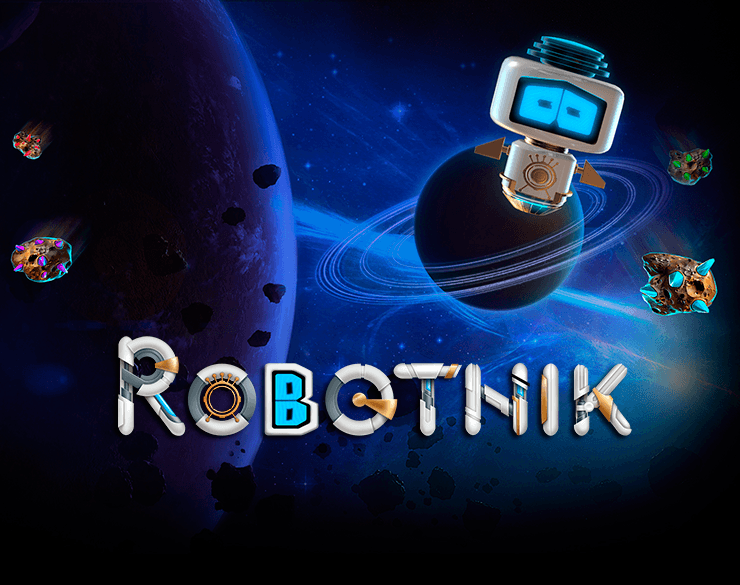 Bonuses and special features
This 3D online slot machine offers a classic Wild through which gamers may optimise their gameplay. This feature is very appreciated by slot machine fans because it enhances their chances of winning. Indeed, when the Wild symbol appears on the screen, it is to replace other symbols to create a winning combination. When it appears in large numbers simultaneously, the re-spin feature is triggered and the player will gain a free spin at once. If another Wild symbol turns up on the horizon throughout this free session, the player will be rewarded with a further 11 free spins.
The multiplying Wild is an other feature which is appreciated by 3D online slot machines players and makes of Robotnik a potentially very profitable slot machine. As its name indicates, this function multiplies the gains when it appears on the screen. If your current gains are already high at the moment of the appearance of the multiplying Wild, you potential earnings can therefore be huge. When the "sticky" Wilds appear on the screen of Robotnik, they guarantee a fantastic payout and will bustle to form winning combinations. Every time one of these Wilds shows itself, you can also win an automatic free spin.
There are several on-line casinos where you can play Robotnik, but we recommend Mr Green Casino.
———————————————————–
What special features does this game have?
Robotnik has a Wild, a multiplying Wild as well as a sticky Wild.
What is the maximum jackpot of this game?
The jackpot is currently 500 coins at Robotnik.
What is the payout % of this game?
The payout % of Robotnik is 97.3%.
How many paylines and reels does this game have?
Robotnik has 5 reels and 40 paylines.
At which casinos can I play this game?
Robotnik was created by Yggradit and is available to play at Mr Green Casino.
Related posts: