Dubya Money
September 13, 2012
By
Fruity Reels
Dubya Money is one of the latest additions to the Microgaming range of online pub style fruit machines. As the name suggests, the game is themed around United States President George W Bush. We highly recommend choosing 32 Red casino to play Dubya Money online.
Dubya Money Fruit Machine Review
Like all pub style fruit machines Dubya Money has holds, nudges and a bonus board feature. It also has the biggest jackpot of any pub style slot – an amazing £5000! You'll find many similar 3 reel fruit machines at Microgaming casinos, all with a tongue in cheek theme to them, and of course all the traditional features you'd expect from a pub style fruit machine.
Dubya Money Fruit Machine Bonus Features
The bonus feature on Dubya Money is based around George Bush's past and is themed on the riches that can be gained from an oil field. This board feature is activated by reaching number 7 on the trial (numbers appear on some of the symbols on the reels that enable you to progress up the trial feature and activate the Dubya Money bonus round).
In addition to the bonus round, Dubya Money has some great nudge features. It is possible to eanr up to 4 nudges on this game, but this is made all the more exciting by a nudge gamble option and an nudge hold bank, where you can "carry over" your nudges after your next spin of the reels to create a better win opportunity.
Dubya Money is definitely one of the most entertaining U.K. style pub fruit machines around and well worth a look. If you like fruit machines with bonus features such as Deal or No Deal or Reel King, then we think you'll love Dubya Money.
Play Dubya Money at the following online casinos:
32 Red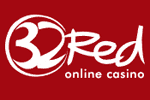 Featuring 12 uk style pub fruit machines including Dubya Money.
Spin Palace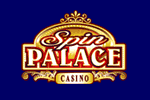 Dubya Money is just one of twelve UK pub style fruit machines available at Spin Palace.