Avalon II : Quest For the Holy Grail
October 31, 2016
By
Stefan
The online slot Avalon II is the latest exciting title to be launched by the casino industry leader Microgaming and is a fantastic sequel to Avalon, which has enjoyed huge success among Australian gamers. The same endearing theme, but with hugely improved design and more complex features that are sure to make this one the all-time favourites. The original Avalon slot made a massive impact, but this multi-faceted casino jewel will clearly outpace its older sibling.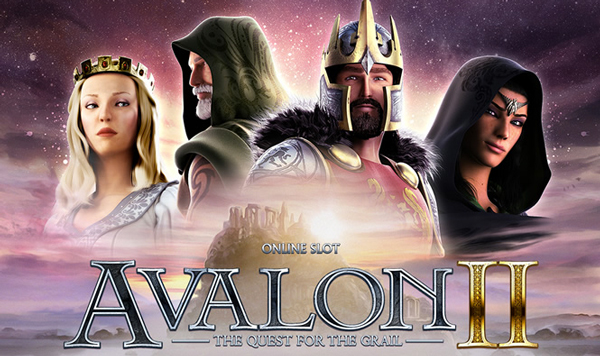 Even if you're not familiar with English folklore and legends, Avalon is one of those names that rings a bell, just like Camelot, Lancelot and the Knights of the Round Table also do. Avalon is the mysterious island central to Arthurian literature where King Arthur travels to after his last confrontation with Mordred. It's also the birthplace of Morgan le Fay, the powerful enchantress. Excalibur, King Arthur's legendary sword, is rumoured to have been crafted here.
Why is English Folklore so Popular?
Avalon II throws the player in the mythical Arthurian legends. You'll spin alongside the characters central to the story, namely Arthur, Guinevere, Merlin, the Black Knight and the fairy Morgan, who are all represented as symbols. Some characters bring their very own special features to the game… Such is the case with the old sorcerer Merlin, who will randomly appear and bestow players with a choice between cash prizes and multipliers on the wins made on previous winning combinations. The Avalon II icon is the slot's top paying symbol. Other powerful symbols also include the Grail Bonus symbol and the Lady of Lake expending Wild.
The world on online gaming is currently basking in a real quality revolution. Online 3D slot fans now have the opportunity to enjoy several titles featuring great graphics, fantastic animations and memorable themes. But it's safe to say that Avalon II is simply one the most successful online slots. Contrary to its predecessor Avalon, this astounding 3D slot machine offers 243 Ways To Win set against 5 reels. As for the betting range, you're looking at a reasonable range between 0.30 pence and 7.5 pounds, therefore aiming to please all sorts of gamers.
In all aspects, this diamond from Microgaming ticks all the boxes to go a long long way and there's no doubt it will establish itself as classic among the 3D online themed on dark, mysterious subjects, alongside other high quality slots of the same genre such as Secret Code, a dark reel adventure by Net Ent which explores a medieval christian cult reminiscent to the Priory of Sion made famous by Dan'Brown's Da Vinci Code.
Stunning Features: Avalon II Raises the bar
Looking for a feature-packed online slot experience? Look no further! Avalon II goes beyond all expectations and delivers abundance and complexity. Not only does this remarkable game impresses with its own strong visual branding but also delivers intrigue and revelations… It would take too long to give a comprehensive description of all the amazing Arthurian Legend features players can explore and discover, but here there are summarized:
Lake of Legend
Put the the sword Excalibur back together by rolling dice.
Misty Vale
Players get 15 Free Spins and enjoy an extra wild.
Whispering Woods
The White Knight bestows players with a choice of 5 shields.
Forest Falls
Enjoy 20 Frees Spins twinned with trailing wilds.
Dusky Moors
Players must match 2 Helms for an extra win.
Morgan's Keep
Players are awarded with 20 Free Spins plus rolling reels.
Halls of Shadows
Conquer the Black Knight to recover the mythical grail
Isle of Avalon
Players will Spin the Wheel of Avalon to win a prize.
Avalon II : Our Verdict
Avalon II is much more than a simple slot machine; this stunningly designed game is a true entertainment experience that does an amazing task of transcending gamer expectations and ups the ante with its endearing imagery and the complexity of its many special features. An extraordinary 3D slot experience not to be missed.
——————————————
What is the top jackpot of this slot?
Avalon II offers a 120,000-coin maximum jackpot.
What are the special features of this slot?
Avalon II offers Wild symbols, Multipliers, Free Spins and Bonus Games.
What is the payout % of this slot?
The payout percentage of Avalon II is 97%
How many paylines and reels does this slot have?
Avalon II features 243 Ways-To-Win and 5 reels.
At which casinos can I play this slot?
Avalon II is a Microgaming title which is available at 32 Red Casino.