Hitman
September 13, 2012
By
Fruity Reels
Hitman is typical 5-reel, 15 line slot and uses relative Hitman icons to stick as close as possible to the much loved game. As a result of this, the graphics used in the slot are excellent quality with plenty of attractive icons taken directly from the game. The relatively small jackpot of 4000 coins and 20 coin max line bet shouldn't put anyone of playing this as there are a variety of different bonus features that can easily top this. Alongside the standard symbols, Hitman offers an array of special features that involves the user being more involved with game play. One such feature is when 3 Insignia logos are matched 1, 2 and 3 were the user must select a symbol to reveal a cash prize. Play now at 32 Red casino.
Hitman Slot Review
This game becomes a lot more exciting when players match 3 bonus logos within the last three reels. Not only that, when two have already landed the slot extends the stoppage of the final reel to create a really tense feeling as the prospect of big money is so close. When three bonus symbols are matched the standard 15 line slot transforms into a Hitman mode, revealing a scenario in which the user selects a target and a weapon to take out the crooks. Each possible combination has a random coin payout so however the player decides commit the crime; the payout can be just as spectacular. The highly detailed interface changes this game into much more than just a slot as the player is now involved in role play, allowing a much more personal feel to each game.
A cool feature within this slot is when any of the middle three reels reveals a wild symbol (Agent47 clutching two pistols each crosses across his body). By activating this wild symbol, the player is met with a short clip taken directly from the game, alongside this that reel becomes neutral meaning it acts as a connection to any other winning lines surrounding it. Also, matching three 18 logo symbols gives the player a chance to win up to 18 free spins, each providing the chance for a massive payout.
Overall, this game is a joy to play, and the entertainment factor really does add to the feel of each spin. The Hitman franchise has been transferred very well to slot machine and should be given the respect it deserves.
The Hitman slot is available at all Microgaming online casinos, and is one of our favourite slots so check it out before the he comes for you!
Play Hitman at the following online casinos:
32 Red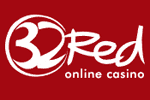 Featuring 12 uk style pub fruit machines including Hitman.
Spin Palace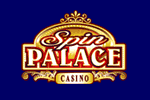 Hitman is just one of twelve UK pub style fruit machines available at Spin Palace.