Starburst
February 2, 2018
By
Diana D
Starburst was released in 2012 by NetEnt and almost instantly became a favourite in the online casino community. Its popularity does come as a bit of a surprise, considering that at a first glance, this slot is not a particularly complex one, but its simplicity and straightforwardness is most likely one of its best selling points.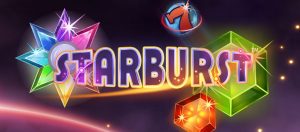 The graphics of the game are simple, yet impressive due to their bright neon colour scheme, which gives a very psychedelic/cosmic vibe that instantly attracts the player's attention and does not get boring regardless of much you play. Every element looks 3D and the sparkling effect really adds to the feeling that you are experiencing something special. The music is simple, not too loud, and also provides a cosmic feel that beautifully compliments the graphics. Starburst definitely plays the nostalgia card right, bringing back the very popular 80s, which people seem to love.
The game can be easily played on desktop or mobile. The mobile version could actually be considered more appropriate for playing Starburst, considering it is a NetEnt Touch Game and there is an extra ease to playing it on a touch device. There is also a third less known version, the 3D Starburst, which can only be played by gamblers who own an Oculus Rift VR headset on the virtual reality casino Slots Million.
In terms of gameplay, Starburst is pretty much the typical slot, with no progressive jackpot and no free spins. The game has five reels and ten paylines, and although there is a maximum win, that bar is set pretty high, at £50 000, making its popularity quite self-explanatory. Another feature that makes Starburst so appealing is the possibility of winning from both left and right, giving the players a greater chance of satisfaction and having the odds really in their favour. The gamblers needs to keep an eye on the Starburst Wilds, which if they appear for three times in a row, will earn them up to three re-spins. Players can bet from 10p to £100, depending on how generous their budget is or how much they are willing to risk. They can also try the game out without signing up and enjoy a bit of harmless fun.
It's fair to say that Starburst is probably one of the best slots available to play in the online casino world. Its popularity is well deserved, as the game never disappoints, it is beautiful to look at, the music is subtle and enjoyable, and the gameplay is simple and straightforward. But no need to believe everything you read, why not try it for yourself?